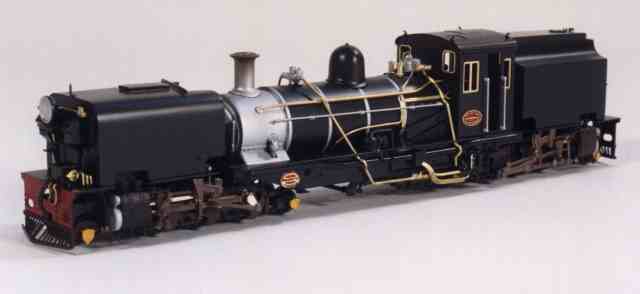 Now I'm a big fan of backwoods miniatures (
www.backwoodsminiatures.com
) as they produce some very good kits. Their Double Fairlie, Taliesin, NGG16, K1, Russell and Linda/Blanche are indeed likely to feature on Rhyd Ddu in the future... I do however have some comments on them:
They have now (it seems) finished on their '009 crusade' and have moved into the On30 market, which is a shame as there are many other narrow gauge locos that could do with the Backwoods treatment. In their defence, they say that a kit for Monarch will be done at some point in the future and that when a NG15 is running on the WHR, a suitable kit will appear, but it is disappointing that some locos won't ever be part of the backwoods family... That appears to be a factor of: Pete's personal preference of locos and the (presumably) better market for On30 stuff.
In an article, in 'Narrow Gauge and Industrial Railway Modelling Review' [is that the journal with the longest name ever???] (
http://www.narrowgaugeandindustrial.com/
) a few years ago, it was revealed that the double fairlie kit nearly didn't make it, as Pete has trouble with his personal views on the prototype... This, it seems, is the reason that other locos, such as the FR Englands, Mountaineer, any Talyllyn/Corris loco etc will never make it to become a Backwoods kit. What a shame, particularly as some of the 'missing' kits I would suspect would sell pretty well.
Secondly, the Backwoods kits are generally only a model of the loco in one particular time frame. That is, that the NGG16 is in SAR condition and requires a lot of modifications to make it into a WHR NGG16; the same with the double fairlie, which is only really to model Livingston Thompson (and it's other previous namings). Again, a shame and one which must reduce the available market for such products.
But why am I moaning, the kits are superb, instructions great (a few companies could learn lessons from the great instructions backwoods give), the locos run well and, the best bit is, that they are as near to perfect scale models as is possible in 4mm to the foot gauge. Certainly significantly better than some out-of-scale white metal kits that used to be the mainstay of 009.
So, well done Pete, but, as ever with my postings on this blog, it's not 10/10 due to the slightly disappointing range limitation imposed by your own taste and the lack of flexibility within kits for differing versions of the same loco. Altogether it's 9/10...
Colin